Goodie Bag – GFNY NYC 2023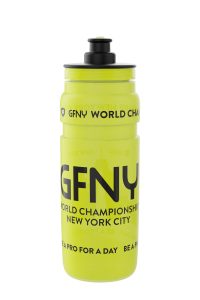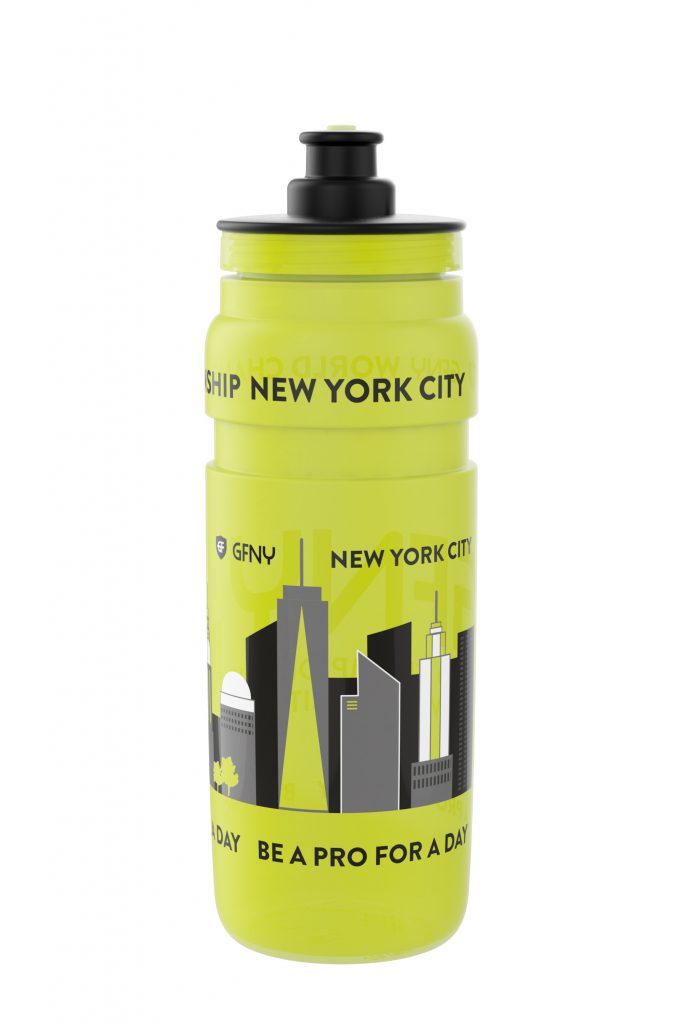 A staple in your goodie bag for 10 years straight: the GFNY bottle by ELITE. For the true BE A PRO FOR A DAY experience, we'll get you world's lightest bottle, the ELITE Fly in the special edition GFNY design.
Salvatore of ELITE explains:
"The Fly Bottle is the result of a 3-year study conducted with two different University research teams aimed at introducing the lightest water bottle in the market.
The objectives of this study were:
finalizing the perfect racing bottle in terms of how easily you can squeeze it and get the greatest amount of water;
creating a new plastic compound that would reduce development of bacteria and molds, and therefore a longer life cycle of the bottle;
reducing the environmental impact of life cycles of our bottles.
The result is the Fly bottle, that, at a weight of just 58g for the 750ml version, takes first place as the world's lightest bottle. Standard bottles' weight is around 90-100g – for the 500ml version!
By saving up to 40-45% of plastic material, ELITE massively reduced the environmental impact of their production.
Since the Fly bottles are conceived to be reused, ELITE made sure that the odorless valve could be removed very easily for cleaning and drying.
Production-wise, 100% of raw material used for creating the Fly bottles is transformed into final product, including scraps, allowing us to achieve a non-stop material recycle.
ELITE's production center also makes use of pharmaceutical technology via electric-powered machinery that minimizes energy use, because it doesn't require constant pressure as hydraulic machines would. Without hydraulic control, there are also no oil contamination risks, which is key for products destined for food use like water bottles. And as another benefit, ELITE achieves faster and greener production cycles."
"I love this bottle for yet another reason," adds GFNY co-founder Uli. "I always preferred the look of a 500ml bottle but it carries too little fluid. A second bottle isn't an option, because my second bottle cage hosts the tool bottle. I choose the tool bottle over a second drink bottle because saddle bags add weight to an area on the bike that moves to the side when riding out of the saddle. It doesn't feel good to have the added weight or – even worse – something dangling around."
"Bring in the 750ml ELITE Fly bottle: it's barely taller than a standard 500ml bottle due to its sleek cap design but carries 50% more liquid."
Not registered yet? Get on it now.