GFNY is back in Brazil!
GFNY is back in Brazil with GFNY Bento Gonçalves
on October 16, 2022!
The Course
Bento Gonçalves has the largest and most equipped expo center in Rio Grande do Sul, the Fundaparque, which hosts international events like Movelsul, Fimma, Fiema, ExpoBento, and is also your host for GFNY Bento Goncalves race week activities. Get ready for fun activities like photo walls, beer garden, group rides, information sessions, music and the pre-race expo.
The race starts and finishes next to the Fundaparque and makes a 75km loop to the east and south. You'll start with a 3km descent and then start 10km of climbing, which is a gradual climb, but also has steep sections of 8-10%. You'll descend 3km again, and then have a 3km climb into the village of Caravaggio.
From Caravaggio, you will ride along a 40km stretch of rolling hills, which will be quick and fun with your peloton. You'll be traveling on tranquil countryside roads along this loop, but also pass through cities like Farroupilha, Carlos Barbosa and Garibaldi. After Garibaldi, the rolling hills continue, but they become longer and stepper, 2-4km climbs followed by similar descents. Here is where the groups will start to splinter.
As the loop comes to an end, you will have to make your decision to continue cycling the long course by turning left for a loop through the stunning Vale dos Vinhedos or head to the finish line of the medium route.
The loop to the west is is 60km and travels through the heart of the Bento Goncalves wine region, with vineyard-covered hills, Mediterranean-style buildings, small shops, historic cobble sections and breathtaking scenery. The loop covers the entire length of the famous Vale dos Vinhedos. But with great beauty also comes great challenge. The loop has many steep climbs of 8-16% which are 1-4km long. When you reach the western-most part of the loop, you'll navigate a steep descent into Santa Tereza and then take on the longest climb of the day: 12km and 4% average. A few more steep climbs will await you to close this challenging loop.
Once you complete the loop, it's a fast, flat final 5km to the finish line where the day started. Come to Fundaparque to receive your medal, post-race meal and celebrate your finish and the special achievement with your cycling group, friends and family.
Long Route – 145km / 3192 m +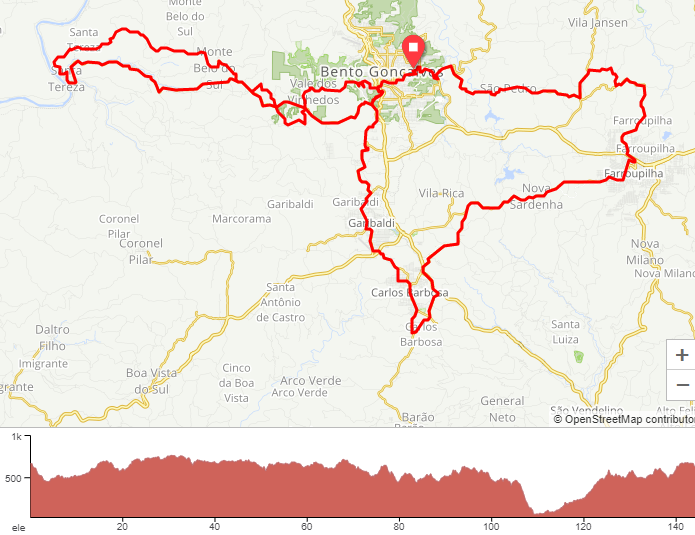 Medium Route – 80 km / 1502 m+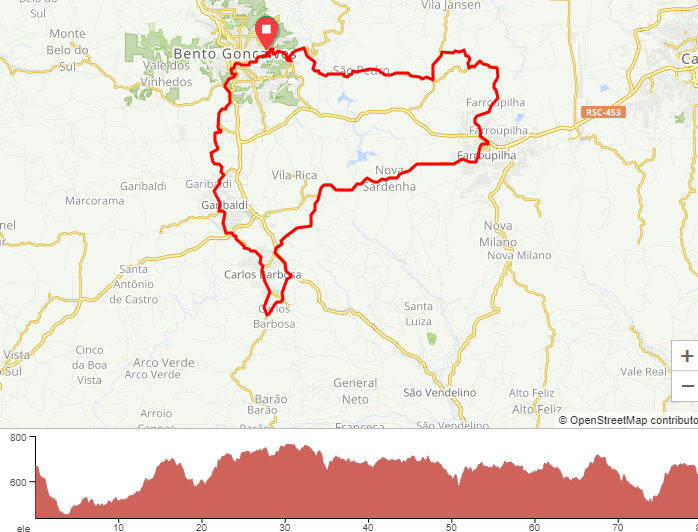 About Bento Gonçalves
Located in the center of Brazil´s wine region, Bento Gonçalves offers you fantastic roads for cycling, beautiful views of vineyard-covered hills and great food and wine.  Italian immigration has played a big role in shaping the architecture, cuisine, viticulture and landscapes, resulting in a region that looks and feels like Italy with a Brazilian twist.  The rolling hills serve up lots of cycling fun on twisty roads, making your trip to Bento Gonçalves a fantastic cycling vacation.
Bento Gonçalves is home to Vale dos Vinhedos, named after the region´s valleys covered with vineyards.  It´s made up of small farms, family and internationally renowned wineries, hotels, restaurants, art galleries and gourmet food shops.  The route starts on BR-470, south of Bento Gonçalves, and continues west on RS-444 through the valley towards Santa Tereza.  Vale dos Vinhedos wines are the only wines in Brazil to hold the Designation of Origin (DO).
You will be enchanted by the hospitality of the locals combined with the high quality tourism infrastructure available,  The state of Rio Grande do Sol is a major international tourist destination in Brazil, being the 2nd largest international traveler destination after Sao Paulo, with Rio de Janeiro being 3rd.  Because of this national and international tourism appeal, you will find a large variety of hotels, inns, and restaurants at every budget, extending a warm welcome to you while you come to race GFNY Bento Gonçalves.
GFNY Perks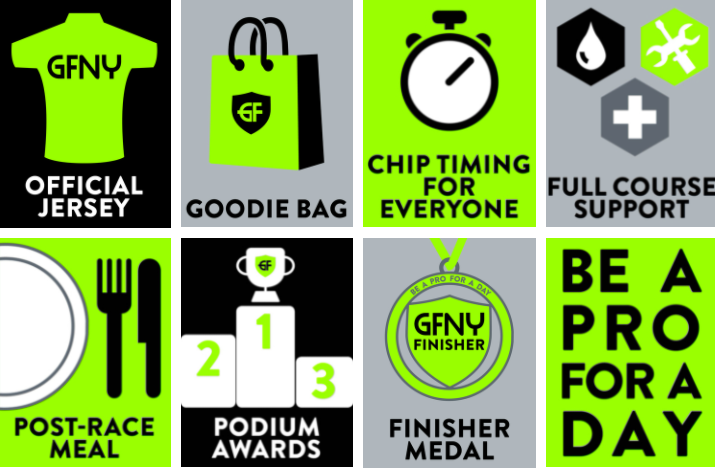 THE JERSEY
All riders receive the official GFNY race jersey, which is mandatory attire at the race. The jersey is designed in NYC and Made in Italy.

FINISHER MEDAL

Every GFNY Bento Gonçalves finisher receives a medal, no matter which distance they complete. All finishers also earn a "Finish" towards their 3×2022 GFNY medal or the 10x lifetime medal. Go to
gfny.com/medals
for more information on GFNY's multi-finisher medals.

GFNY WORLD

The top 10% of finishers in all age groups riding the long course qualify for the front corral start at the
GFNY World Championship NYC
.
Travel
The Caixas Do Sul Airport (CXJ) is a 50 minute (45km) drive from Bento Gonçalves.  CXJ is a regional airport that offers service from Sao Paulo (GRU and VCP) via Gol, Azul and Latam.
Porto Alegre Airport (POA) is the largest airport close to Bento Gonçalves and receives flighs from all of Brazil.  POA is 1h:45 drive (115km) from Bento Gonçalves.
Tags: LatAm