GFNY announces GFNY Maryland (USA)
GFNY announces GFNY Maryland
October 1, 2023
The Course
Join us at Maryland's hardest and biggest road race! 92 miles of racing with police-moderated intersections along the entire course. Approachable medium course of 48 miles at a more casual pace. Fully stocked aid stations and mechanical and SAG van support. A finisher medal & post race meal for everyone!
GFNY Maryland race week activities take place in downtown Cambridge. You will be picking up your race packets and enjoying the post-race festivities, music, awards, and the post-race meal at the green space at Race Street & Cedar Street.
GFNY Maryland starts at the aptly-named Race Street in the heart of Cambridge's downtown.
After leaving Cambridge, you enter Dorchester County, a place of natural, unspoiled beauty, with waterways, marshlands, farm fields, woods, and quaint small towns. Enjoy views of beautiful Chesapeake Bay coastline. Race past the Blackwater National Wildlife Refuge, a 27,000-acre place of striking marshlands, bald eagles, great blue herons, and more. You will also pass through the Harriet Tubman Underground Railroad National Historical Park.
The race course is flat and fast, with occasional high winds. GFNY Maryland is GFNY's flattest GFNY, making it fast for athletes who are working together in a peloton, but is also a very beginner-friendly course with great support along the entire course!
Long route riders repeat the loop a 2nd time before heading back to downtown Cambridge.
Long Route – 92.4 m / 481 ft+
Medium Route – 48 m / 254 ft+
About Cambridge
An authentic Chesapeake town on Maryland's storied Eastern Shore, Cambridge has a rich maritime tradition, including shipbuilding, sailing, fishing, crabbing, waterfowling and more. With an outdoors & nature-loving culture, a rich history, charming small towns, and a slower and friendlier pace of life, Cambridge and Dorchester County offer you a wonderful opportunity for a getaway.
Cambridge is located near the metropolitan areas of Washington, DC and Baltimore, yet when you arrive to Cambridge, you'll enjoy its small town charm. The surrounding areas include stunning nature, flora, fauna, local farms, rolling hills and ponds. Highway US-50 is known locally as the "Ocean Gateway," with the segment running from Choptank River to Ocean City known as the "Sunburst Highway."
Cambridge has local attractions and activities for the entire family.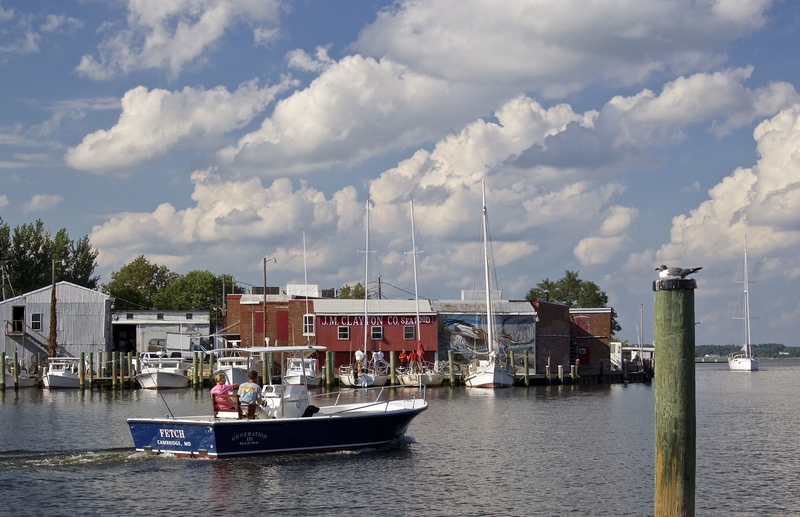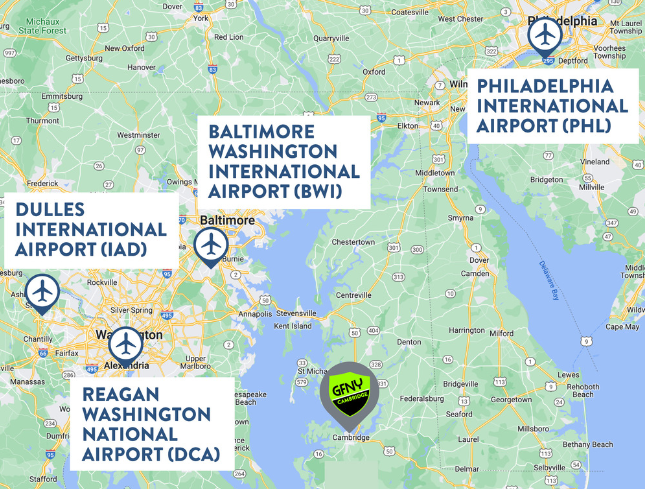 AIRPORTS
Traveling to Cambridge is easy by air, with two major airports that serve Washington DC, Baltimore airport and Philadelphia airport.
If you want to combine the trip with a visit to Washington DC, fly to Reagan Washington (DCA) or Dulles (IAD).
If you want the airport with the shortest driving time, fly to Baltimore (BWI).
Philadelphia (PHL) is a great option with many airlines flying direct, making the trip faster and easier.
Many car rental options are available at each airport to make your trip to Cambridge fast and easy. Here are the driving times to Cambridge from the nearby airports:
Baltimore (BWI): 1h:30m
Reagan Washington DC (DCA): 1h:45m
Philadelphia (PHL): 2h
Dulles (IAD): 2h